Make it Combo $2.99
(Fries or Chips with Canned or Fountain Drink Only)
Make it Combo $2.99
(Fries or Chips with Canned or Fountain Drink Only)
Make it Combo $2.99
(Fries or Chips with Canned or Fountain Drink Only)
Make it Combo $2.99
(Fries or Chips with Canned or Fountain Drink Only)
Make it Combo $2.99
(Fries or Chips with Canned or Fountain Drink Only)
Hot, Mild Buffalo, Garlic Parmigiana, Mango Habanero, BBQ, Spicy Sweet Chili.
With a Side of Blue Cheese or Ranch Dressing.
Make it Combo $2.99
(Fries or Chips with Canned or Fountain Drink Only)
Get 10% off from the regular menu when you order online only  
use promo code stgeorge10 at checkout.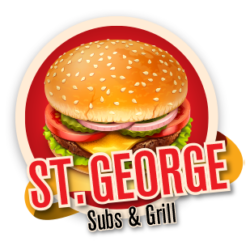 © St. George Subs & Grill 2020 All rights reserved